Artificial intelligence (AI) is revolutionising driving, travel, and the way we live. From smart home automation systems like Google Home to self-driving cars, AI is rapidly becoming an integral part of our lives, enhancing safety, convenience, and access to information.
But AI's transformative influence isn't limited to our daily commutes and after work activities. Developments in home and driving intelligence are sure to shake up the caravan, motorhome, and leisure industry over the next few years.
Let's explore how AI is reshaping the world of caravan tourism.
1. Improved safety when towing
Safe towing is one of the main concerns for caravan owners. Adding a significant weight to the back of your car extends braking distances, impacts vehicle load limits, and makes a huge difference to how you drive.
But AI can make towing a caravan much safer. In fact, AI safety products are already in development. US company Haul Gauge has developed an app that measures the weight and load distribution of your vehicle without the need for scales, ensuring you're always towing a safe load.
And the safety potential doesn't stop there. Speaking to Caravan World, Adam Berry, Associate Professor and Deputy Director of the University of Technology Sydney Data Science Institute, says:
"Imagine a system that can automatically detect if you doze off for a second. Or a piece of intelligent software that can look at current weather conditions, your vehicle load and the type of road you are driving on to provide in-the-moment hints and tips about safe speed levels or high-risk areas where you should be especially careful."
2. More Internet of Things features in caravans
3. Rise of alternative eco-friendly travel options
4. Innovations in caravan technology and design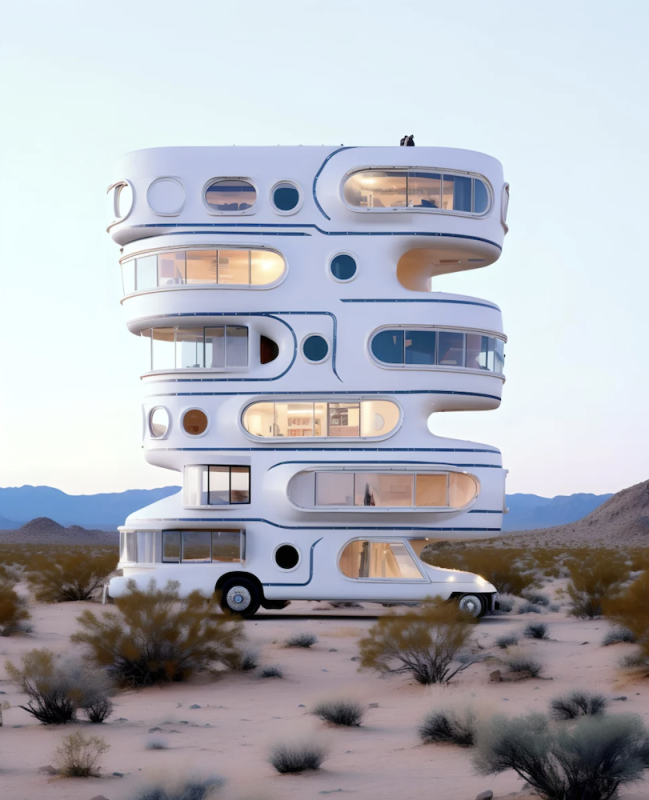 While these unique designs probably won't come to fruition, it shows how AI can inspire vehicle designers to think outside the box. Caravans and motorhomes may no longer be reserved for a yearly trip, but a chance to build comfortable off-grid communities. Ricardo Orts, founder of Ulises Design Studio, explains more:
"By embracing a more nomadic lifestyle, we can explore new ways of living that are both exciting and sustainable, all while fostering a sense of community and connection with the world around us."
AI: A revolution in caravan tourism
AI is poised to revolutionise caravan tourism. It could enhance safety, introduce innovative IoT applications, and help vehicle designers come up with more ways to travel overland sustainably.
With the continued advancement of AI technology, the future of caravanning holds exciting possibilities. These will cater to a diverse range of travellers and create unforgettable adventures on the road.
As we embrace these technological advancements, one thing is certain: AI is changing the face of caravan tourism for good.