How to get WiFi in a Caravan?
It's highly doubtful that anyone taking a holiday in their caravan or motorhome wants to be utterly off-grid without any internet.
There's far too much reliance on the internet for this to be the case; whether it's to keep in touch with family, streaming TV and movies, or gaming options for the kids, the internet is part and parcel of everyday life.
So the question that needs answering is how to get WiFi in a Caravan? This article discusses the various ways to connect to the internet and WiFi in your caravan.
How does Caravan WiFi work?
How can I boost my Caravan WiFi router signal?
By enhancing an already-existing WiFi signal, typically coming from the site where you've pitched up your caravan, a WiFi signal booster helps improve the existing connection.
It is easy to use and comes in various formats, including wireless bundles, outdoor USBs with antennas, and more. All-in-one WiFi booster kits with a router are available, and they work with a wide variety of wireless and wired devices.
How do I get 4G in my Caravan?
If WiFi is a non-starter for your caravan, a 4G mobile network is a great, and more often flexible alternative. It's best to get a dedicated SIM for your 4G router; that way, you save the data on your mobile phone plan. There's plenty of excellent and inexpensive data-only plans available.
If you have a static van with a strong 4G signal in the area, these can work well. However, it's more hit or miss with 4G signals when you're touring. Use Ofcom's mobile coverage checker to determine which service provider is best for your site's location.
MiFi Internet Device
Families needing to connect multiple devices to the internet might be better choosing a MiFi router, but only if they are in strong signal areas. A lot of MiFi devices can also only connect to a single mobile network; this will severely limit the signal to each device. You will still need a SIM card with a high data allowance to get the best from a MiFi device.
Mobile Tethering
In contrast to a 4G router, mobile tethering works through a mobile phone. Most smartphone devices can create a mobile hotspot, enabling you to connect your devices to the internet. However, one major drawback is the data you use comes from your mobile phone plan, and if your allowance is capped, you can very quickly run out, or the network will charge you at a much more expensive rate.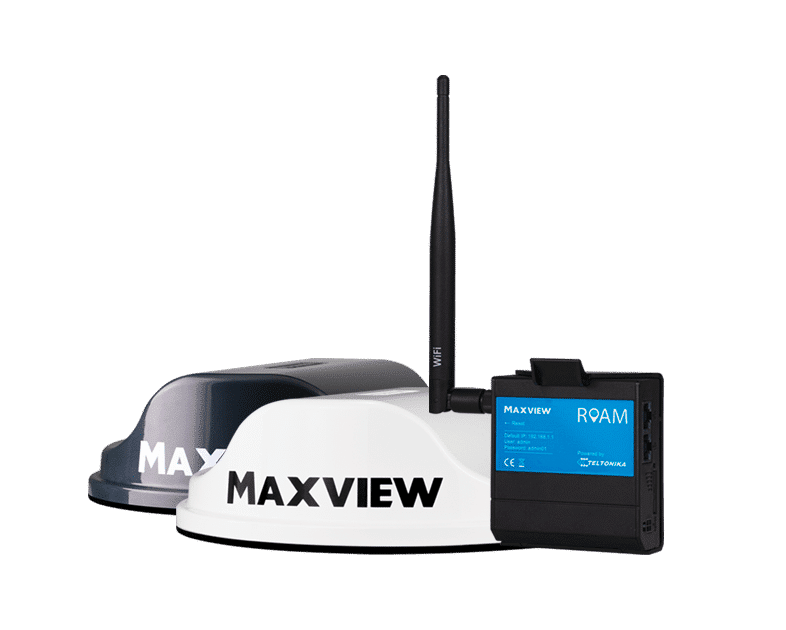 Maxview Roam – The best option to ensure consistent connectivity wherever you are.
Is it worth getting a 4G router for my caravan?
Most people are familiar with 4G because they have it on their mobile devices and use it daily when away from any WiFi signal they can log into. So yes, putting a 4G router in your caravan can, of course, work well. However, as previously mentioned, you cannot guarantee the quality of the 4G signal you will access when touring. 4G can also be used very successfully where you know the quality of signal you're getting. For touring caravans, motorhomes, and static vans with a poor mobile phone signal, you need a more robust and reliable system, and you should consider the Maxview Roam.
What is the best WiFi router for a Caravan?
The Maxview Roam is by far the best WiFi router for your caravan, whether you are touring or static; however, it's not just for caravans because the Roam will provide internet to a range of other vehicles, including:
– Motorhomes
– Campervans
– Horseboxes
– Trucks
– Boats such as canal boats or narrowboats

The Maxview Roam, with its powerful antenna and router, will connect your Caravan to the internet. There are two ways the Roam accomplishes this.
First, the Roam hotspot relies on 3G or 4G mobile data. However, even when your phone cannot detect any usable signal, you typically get a far stronger signal through your Roam because it utilises the Roam's external antenna.
Second, you can use the Roam to connect to an existing wifi hotspot if one is available. This system will ensure you only use your mobile data as and when necessary.
Take a look at the Maxview Roam today to give your family the best opportunity of a decent internet connection wherever your travels take you.