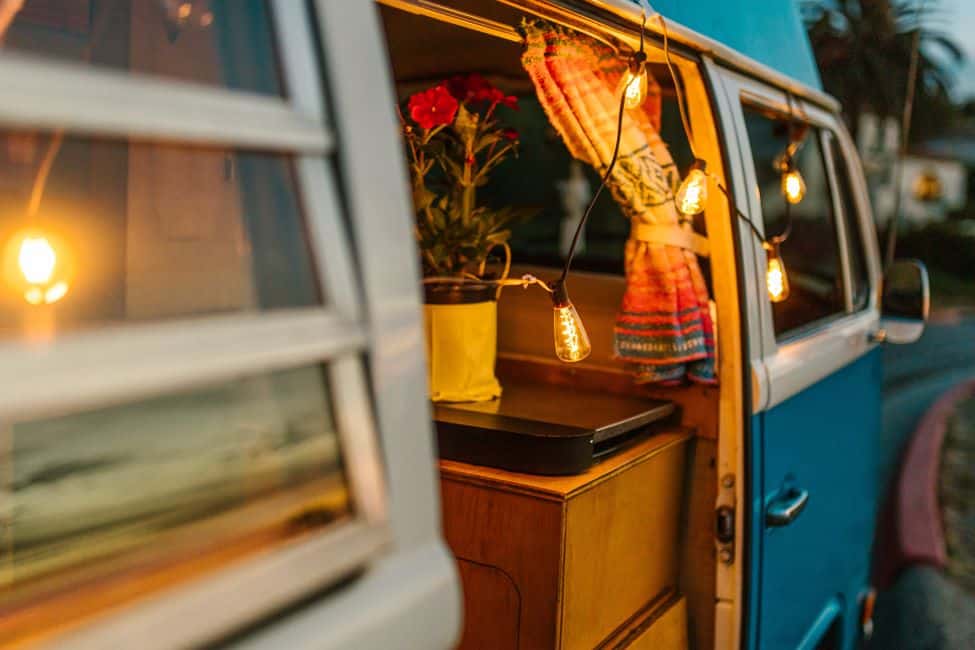 The nomad lifestyle is extremely popular right now. After 2 years of being stuck at home, more and more people are hitting the road to seek new adventures. And with new #VanLife Instagram posts and YouTube channels popping up all the time, it's very tempting to find out how to build your own campervan.
According to the NCC, the UK set a new record for campervan sales in 2021, with more than 16,000 new motorhomes being registered with the DVLA. Join thousands of happy campers out on the road by building your own campervan.
Learn everything you need to know about how to make a van into a camper here.
Jump to:
The basics
From budgeting to building, there are plenty of skills required to build a campervan. But there's no better way to learn a skill than by applying it to something you care about. Here are the basic things you need to learn and discover before you get stuck into your campervan build.
How much does it cost to build a campervan?
Your campervan budget is the first thing to establish. Campervan conversion costs can spiral out of control if you're not prepared, so ensure you have enough cash saved to invest properly in your camper.
The biggest investment will undoubtedly be in the van itself. And with campervans and motorhomes in high-demand, prices are high in 2022 — especially if you want an iconic Volkswagen camper.
And it's not just the brand that impacts the price. Mileage, age, and even colour can affect how much you'll pay for your campervan. Here's a pricing comparison chart so you can see second-hand campervan prices at a glance:
| | | | |
| --- | --- | --- | --- |
| Van | Mileage | Registration year | Price* |
| Ford Transit (white) | 90,000 | 2008 | £3,000 |
| Nissan NV400 (red) | 188,000 | 2014 | £6,900 |
| VW Campervan (modern, blue) | 165,000 | 2000 | £10,500 |
| Citroen Relay (black) | 86,757 | 2015 | £10,995 |
| Mercedes Sprinter (white) | 121,500 | 2008 | £14,394 |
| VW Campervan (retro, sage green) | 18,250 | 2008 | £31,000 |
| VW Campervan (modern, silver) | 18,800 | 2019 | £46,995 |
*Prices taken from AutoTrader in April 2022.
As you can see, you'll pay a premium for sought-after brands like VWs, low mileage vehicles, and newer vans. Buying cheap high-mileage vans can be a false economy, since you'll ultimately pay more in servicing and maintenance. A quality van with reasonable mileage will probably cost £10,000-£15,000, if you avoid Volkswagen brand vehicles.
On top of this, expect to budget a further £1,000-£5,000 for the interior build of your campervan, depending on how fancy you want it to be.
How long does it take to build a campervan?
The time it takes to build a campervan depends on:
Your free time — if you lead a hectic lifestyle or work long hours, it'll take longer than someone with lots of time to spare
How many people are involved — if you're working as a pair or a group, it'll take less time to complete the build (in theory, at least)
Your skills — if you're already an experienced builder, you'll be quicker than someone who's learning as they go
Campervan conversions can take anywhere from 7 weeks to 7 months to complete. The best way to ensure you stay on track is to avoid shortcuts and plan thoroughly.
Choosing your van: 10 things to consider
We've covered campervan costs — but there are lots of other things to consider when choosing the right van to convert.
Is it roadworthy? Unless you're a mechanic, don't buy a cheap van that needs a lot of work. It will cost you a lot more to make the van roadworthy than you'll save in the initial purchase.
How much will you spend on fuel? Most campervans have diesel engines, which is generally more expensive — although it's often more fuel efficient than petrol.
How eco-friendly is your van? Travelling in a campervan is more eco-friendly than travelling by plane, but could you be doing more? Consider how easy it would be to add solar panels or a rainwater collector to your camper.
How big is your van? If you're tall, you may want to invest in a van with a pop-up roof. Square-shaped vans are also usually better for campervan conversions, as you can better maximise your space.
How many miles has it done? Low mileage vehicles are usually less likely to break down than those that have already covered a fair distance.
How old is your vehicle? Retro campervans look great, but they can be unreliable on the road. Consider a more modern van for peace of mind when you're driving.
What type of driving will you be doing? Vans with smaller engines may struggle if you're planning to do a lot of uphill drives.
How easy is it to maintain and service? It's often easier to find spare parts and experienced mechanics if you have a newer vehicle, or a common brand. This is important when you're out on the road.
How easy will it be to convert? If your van already has ventilated windows and a broad, square space in the back, it's almost ready for custom conversion.
Is it easy to drive? Like all vehicles, it's important to take the van for a test drive so you know you'll get along with it when you're out on the open road.
Planning your campervan conversion layout
When you've bought your van, you can begin planning your campervan conversion. This is a crucial step, so don't skip it. Here's what you need to consider at the planning stage:
Number of residents or travellers — how many people (and/or pets) will be staying in your campervan? Make sure there's plenty of space for all of you to sleep and travel comfortably.
Rooms and spaces needed — larger campervans can accommodate bathrooms, kitchen areas, and work spaces. Figure out how much space you have, and how to optimise this.
Length of bed — it's no fun having your feet hanging off the end of the bed. If you're tall, you may need to ensure there's enough space for you to stand, sit, and sleep comfortably.
Storage space — if you're bringing large items like bikes or surfboards, figure out in the planning stage where you're going to store them. Make use of roof racks and wall space if needed.
Weight distribution — all vehicles have a maximum weight limit, so be mindful of this when you're planning your build. Don't place all your heavy items on one side of the van.
Important! Measure everything at least twice before committing to any purchases or cutting any timber. Being careless with measurements can add expense and time to your campervan conversion.
Step-by-step guide to building a campervan
1. Buy your van
Check second-hand car sites and local dealerships for second-hand vans. There are plenty of them about, so make sure you're armed with the knowledge of what exactly you're looking for. Some of the most popular UK vans for camper conversions are:
Volkswagen Campervans
Ford Transit vans
Mercedes Sprinters
Nissan NV200, NV300 or NV400s
Citroen Relays
There are also less widely available van makes — such as Dodge RAM vans and Nissan Quests — which you may get a good deal on if one crops up. However, bear in mind that lesser known makes can be more problematic when it comes to servicing and breakdowns.
2. Prepare your van
Once you've chosen your dream camper, you can begin getting it ready for converting. Clean your van thoroughly — inside and out — and remove any bric-a-brac, carpeting, seats, or previously installed shelving from the back of the van.
When your van is clean, it's time to measure up. Measure everything — including tiny corners and protrusions — and sketch out the layout on a piece of paper. Make plenty of notes, including difficult-to-measure spots and anything that's moveable (such as windows, doors, handles, and levers).
3. Plan your van conversion
Spend a lot of time planning your layout before you start building. Take a look at these general tips for planning your conversion, then delve into the nitty-gritty. This includes things like:
Layout for your sleeping area, work area, and storage spaces
Will you include a bathroom or portable toilet?
Will you need space to cook? How can you include this safely?
Will you need space to store food?
Do you want to include plug sockets? How will you power your van?
Will you insulate your van? If so, how much additional space will you need for this?
What tools and materials will you need?
When you've finished planning, you should know what materials you need, what needs doing, and in what order. Use this time to research where you can buy materials to help you stay on budget.
4. Insulate your van
Insulation isn't essential, but it can get very cold in a campervan at night. (In the UK, it's often cold during the day, too.) But insulation doesn't just keep warmth in — it keeps it out, too. If you're travelling in a heatwave or a hot climate, having the right insulation can also keep your van cool inside.
Van insulation should be cost-effective, mould-resistant, and non-toxic. It should also be easy to attach to the walls, ceiling, and floor of your van (although you don't need to insulate all these — any kind of insulation will help at least a little).
The most commonly used insulation materials are Reflectix (a kind of reflective bubble wrap) foam board, and sheep's wool. Reflectix is best for blocking heat from windows, while foam board and sheep's wool are best for insulating panels and floors.
Cut the materials to size and spray with a heavy duty adhesive. Press against the panels according to the adhesive instructions.
5. Walls and flooring
If you've added insulation to your campervan build, you'll need to create a cover to hide it. This is often made from plywood or another thin, flat timber. Be mindful that adding insulation and wooden wall panels eats into your available space, so you may need to adjust your measurements based on this.
You should also put down flooring in your van at this stage. If you're sensitive to sound when driving, you may want to add a sound deadening mat to reduce noise. You'll then need a plywood subfloor as the base, followed by the visible decorative flooring layer (usually laminate or vinyl flooring).
Installing your flooring is easy. Simply glue it down using strong adhesive and give it time to bond. Bear in mind that you may need to make adjustments to your flooring to account for lumps and bumps in the base of the van.
6. Add power and plumbing to your campervan
With the shell of your van pretty much complete, now's the time to add in the essentials, such as electricity and plumbing.
Not all campervan converters choose to include these. However, they're extremely useful if you're planning extended or open-ended trips, or if you want WiFi access in your campervan.
This is also an area where it may be a good idea to get some specialist help. Plug sockets and other electrical wiring should be installed by a qualified electrician to avoid shocks and other hazards. Campervans are also ideal for installing solar panels and batteries if you're planning a long trip.
If you have the space and budget, you may choose to add a sink, toilet, and shower area to your campervan. However, most campervan converters use refillable water tanks to save money and space. They also rely on caravan site toilets, Shewees, and other public facilities for showering and going to the toilet. This is definitely the most cost- and space-effective way to do it, especially if this is your first time converting a campervan.
7. Build the campervan interior
With your infrastructure in place, you can now start building out your campervan. Create a wooden frame for your bed, storage space, counters, and workspace. Buy and install some slats as the base of your bed, then use plywood to build up counters, drawers, and other functional areas.
We recommend painting your wood and frame before you start installing it in your campervan — it's a lot easier to paint evenly before it's screwed or glued together.
8. Buy the essentials
Your campervan should be starting to take shape now — so. Find a comfortable mattress, blackout curtains, pillows, a portable electric heater, and storage boxes.
Other essentials for nomads and travellers include a WiFi router, portable stove, coolbox or minifridge, lights, and a TV satellite.
9. Add the finishing touches
Here's where you can really make your campervan your own. Put up fairy lights, photos, plants, and cushions to make your camper really homely.
However, don't go overboard — storage space is very valuable in a campervan, so don't bring too much. Anything you hang or put up must also be secured or easy to stow away when it's time to drive.
Adding WiFi to your van conversion
With your campervan almost built, you may be wondering whether you can get a reliable WiFi connection in there. If you're planning to spend a lot of time in your newly built campervan, WiFi is pretty much essential — especially if you want to work while you're on the road.
Fortunately, it's easy to install a reliable WiFi router and antenna in your campervan. It won't take up much space, and it's a great way to ensure you're always connected, wherever you go. Find out more about adding WiFi to your campervan build — and check out Maxview's purpose-built campervan WiFi system.
Van conversion inspiration
Ready to build your own campervan? Take a look at some of these awesome van build Instagram accounts for more inspiration.
A post shared by Maxview Ltd (@maxviewltd)
A post shared by Midlife Migration (@midlife_migration)