Maxview Roam Not Working | Problems | FAQs
We are Here to Help
Maxview Roam Troubleshooting
Occasionally you may run into issues when operating your Maxview Roam motorhome WiFi solution so we have created this page so you can pin down what the issue might be and solve it.
Unless otherwise specified, all troubleshooting steps below relate to all Roam and Roam X kits provided by Maxview. In the event that the advice is different, you will see the relevant router displayed:
Maxview Roam
Maxview Roam X
Try These First:
Quick Initial Checks/Solutions
Some basic things to check before we proceed with the more complicated troubleshooting:
Refresh Your Roam App
Very occasionally the app may not have synced correctly with your router, in which case we suggest to try the internet before taking further steps in troubleshooting the issue:
Occasionally the app displays "not connected to the internet" but is not correct
So swipe down to refresh the app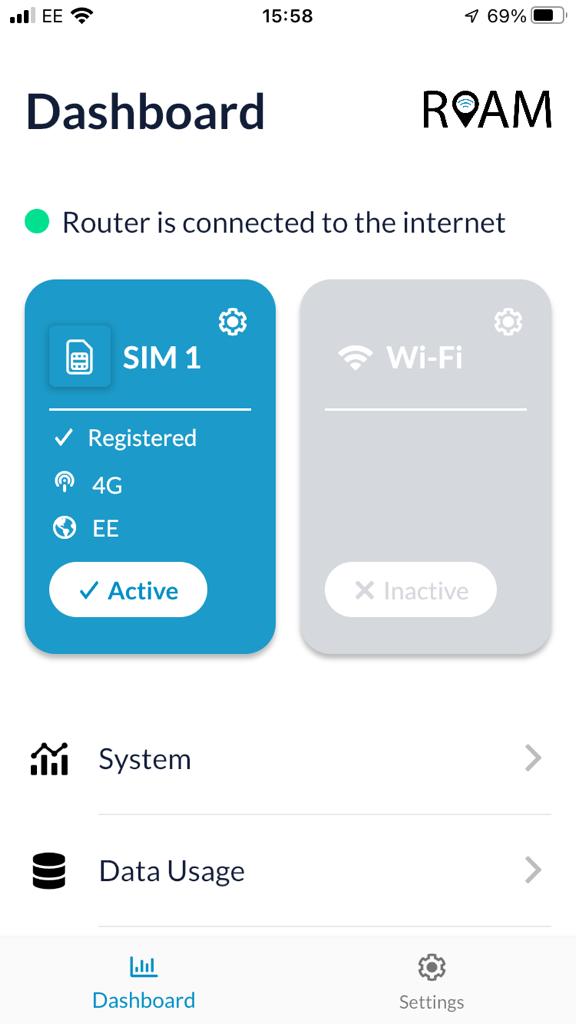 SIM
That your SIM has data and works correctly.
This can be ensuring that the SIM is registered or activated with the SIM provider before using, which is very frequently required with new SIMs.
You can also check the SIM card in a phone or similar device which accepts a SIM by loading a web page and doing a Google search. If this all works correct then we can rule out a SIM data/registration issue
LED Lights
On the side of your router here:
If only the 2G light is on, unfortunately this means that there is just not enough 3G or 4G signal in the area, there won't be anything that we can do to help that other than to suggest moving to a different location or trying a different network. The 4 main networks in the UK are EE, O2, 3 and Vodafone and all have different coverage.
The same goes for this image:
If only 1 of the LEDs are lt up then it means you do not have sufficient signal strength in the area to create a WiFi hotspot and would therefore need to change location or SIM.
Checking the Antenna Cables
That both of the antenna cables are attached correctly in the "Mobile" ports of the router and firmly screwed on.
Factory Reset
Go to section "Factory Reset"
What Next if Nothing Works?
Work your way through the different sections below, we have tried to cover all of the main questions and queries which we are consulted about.
Frequently Asked Questions for Troubleshooting
Guides and Walkthroughs for Troubleshoot Fixes
Broadband Go - Free SIM Card