Quick caravan and motorhome internet is essential on the road – here's why.
Introduction
Motorhome and Caravan internet used to be a luxury. However, now it is essential.
Without a solid Wi-Fi connection, you'll struggle with various tasks, whether that's finding directions or planning a route, checking toll information and the latest travel guidelines, or kicking back and watching your favourite Netflix show after a long day on the road.
Very useful products such as the Maxview Roam allow you to boost your internet signal with ease, acquiring connection where previously, it was not possible.
You may be thinking: why don't you just hotspot your phone? Well, in theory, it works. But it's pretty ineffective – your battery drains quickly on your phone, and you'll still receive a lack of signal in low signal areas.
Not only does this burn through data and battery life, but it won't work anywhere near as well in remote locations.
With Roam, all you need is a sim card – this is inserted into the router. The Roam kit also includes an antenna and companion mobile app – everything you need to stay connected on your travels.
If you plan on streaming a lot of TV shows or films, then we recommend upgrading to an unlimited sim card. As otherwise, you'll either run out of data or exceed your data plan, perhaps incurring additional costs.
Unlike other Wi-Fi routers and systems, Roam boosts your connection through an antenna for a consistent and reliable connection. We also recommend downloading the mobile companion app to set up and measure how much data is being used.
Anyways, this blog post will first discuss more on the Maxview roam Wi-Fi router for your caravan or motorhome, followed up with fifteen reasons why you need internet on the road.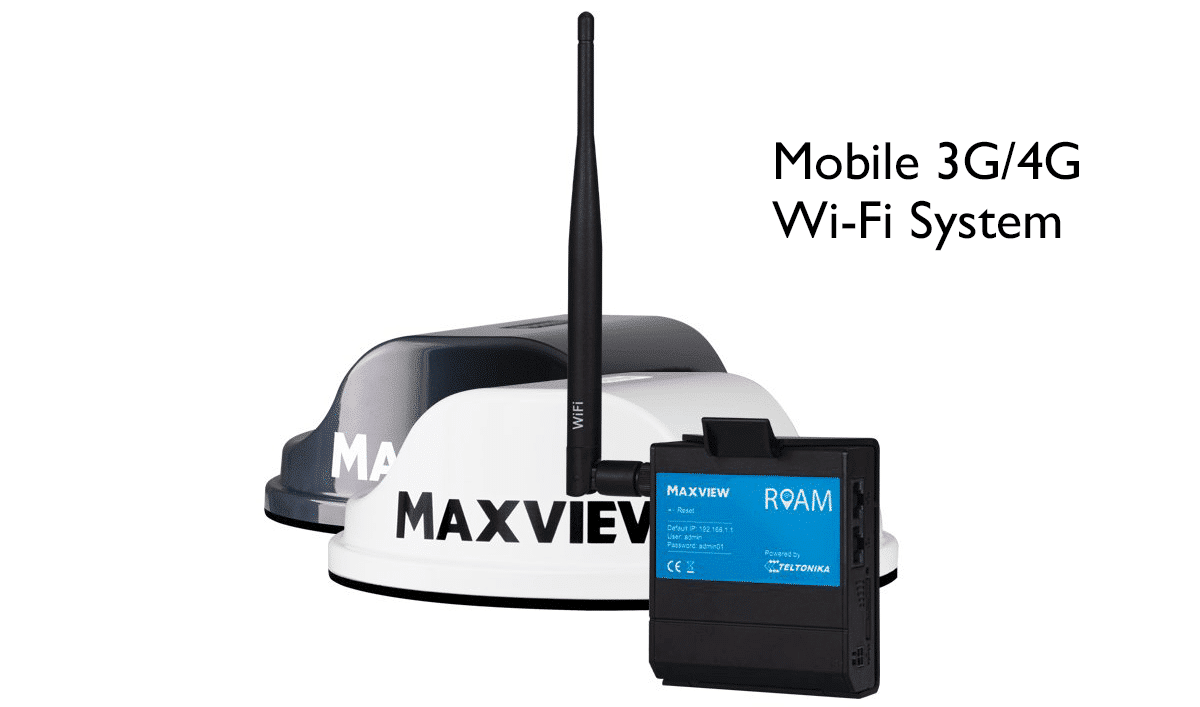 What is Roam?
As previously mentioned, the Maxview Roam allows you to create a stronger 4G hotspot from a powerful router and antenna, increasing signal strength and reliability.
This allows you to obtain a signal virtually anywhere in the world, whether you're on the border of France or camping out before a climb up your favourite mountains.
Make sure you have a sim card, and you're good to go – allowing you to travel stress-free with the comfort of the internet.
And believe us, you'll be glad to have it.
15 benefits of caravan or motorhome internet when on the road
To help illustrate just how useful motorhome internet is on the go, we've put together a list of fifteen benefits below:
1. Entertainment
Staying up to date with your favourite TV shows, listening to music, or catching the latest films has never been easier while on the road.
With a stable internet connection, you can relax and unwind after a long day of travelling with various entertainment options. Of course, we're not saying you need to pack up the board games for good, but it's always a nice alternative to playing monopoly for the seventh time this week.
You can also use a data usage calculator to provide an estimated use and cost based on activity. For those working to a budget or planning a trip, it's essential to stick to your finances, and tools such as this one help massively.
Watching Netflix or Amazon Prime
Two of the most popular streaming services are available with your basic subscription and a Wi-Fi connection, such as the Roam.
You can expect to use an estimated 1.00 GB of data for a two-hour film in SD, and 6.00 GB of data for three episodes of your favourite series in HD quality.
So, whether you're binge-watching the latest season of Downton Abbey or looking for travel inspiration, the world is your oyster.
2. Listening to music
Whether on the go or parked up for the night, there's nothing quite as chill as listening to your favourite music.
A solid wireless caravan internet connection allows you to listen uninterrupted, tuning into your preferred radio station, or perhaps listening to 80s rock on Spotify – whatever you fancy, really.
3. Watching satellite TV in my caravan or motorhome
You may already watch satellite TV in your caravan or motorhome, perhaps with a Maxview dish or a similar alternative. However, streaming Sky or Freesat through the internet is an alternative option, if you don't have a dish.
So, no matter where you are, you can stream into live TV as long as you have motorhome internet.
4. Watching terrestrial TV in your motorhome or caravan
Following on from our previous point, many channels and devices provide terrestrial options, such as Freeview player and BBC Iplayer. However, you require an internet connection to stream.
So, if you can't watch strictly come dancing live, or another one of your favourite shows, then catching it on demand is the next best thing. Just ensure you've got a Wi-Fi connection set up and ready to go.
5. Listening to the radio
Did you know that most radio stations are also online nowadays? Not only is this super convenient, but the signal is often stronger, too.
So, whether you want to tune in to the local radio wherever you are or to travel to, or perhaps your favourite station, you can with little interruption and the best listening experience.
6. Organisation
Having good motorhome internet is essential. A strong internet connection, such as the Roam Motorhome WiFi system, reduces stress massively. For example, you can spend less time on admin tasks, including finding a solid internet connection, and instead, spend more time having fun.
It's an investment – allowing you to enjoy your holiday to the maximum. Besides, no one wants to spend hours searching for the internet… it's just more unneeded stress.
7. Working from home with motorhome internet
Many of us have been working from home due to the coronavirus pandemic in the last couple of years.
If you usually work on the road, or perhaps in a remote location, then a solid internet connection is paramount.
With less stress finding a connection and no need to find an internet cafe, you can spend more time being productive and, ultimately, less time working.
8. Caravan or motorhome navigation
There's nothing worse than getting lost. Well, aside from getting lost and having no Tom Tom, internet connection, or not having the right map installed…
In this instance, navigation is more than difficult. It's near enough impossible.
With caravan internet, such as the Maxview Roam, however, you can use Google or Apple maps to find your way. You can also use the Tom Tom app, but you'll need an extra-strong connection. Therefore, we recommend the former.
9. Checking toll information for France and other countries
An impromptu caravan or motorhome trip can be fun. But the logistics can be stressful. For example, if you're planning on crossing the channel, you may wish to check toll information.
Without an internet connection, you're going to struggle…
But with a solid connection, you can use tools such as Auto Routes to set your journey and even receive the most up to date directions. For example, using the Auto Routes website, you may plan a route from Birmingham, UK, to Normandy, costing a total of €73.
With the most up to date information, you can budget accordingly with a whole lot less stress.
10. Finding things to do in my caravan or motorhome
Struggling to find things to do when you're on the road? Well, the internet is your best friend.
Browse sites such as trip advisor, google maps, booking.com, or even do a quick Google search to find the best attractions.
It should be noted that different sites service separate areas, so one may work in one country, and others may not.
Perhaps consider downloading multiple apps before hitting the road to avoid disappointment.
11. Booking or researching campsites online with motorhome internet
Whether you're travelling by motorhome or caravan, you're going to need somewhere to pull up and sleep at night.
Depending on where you are and what country you are in determines what sites you can use.
For example, the Camping and Caravanning Club has a breakdown of all UK sites and links to specific campsites.
If you're in Europe, however, you can visit Campingo for a rundown of European sites.
12. Booking events or tickets
There's nothing quite like live entertainment. Let's say you're at a busy campsite and you find out about a live music event nearby which you wish you had known about before you left on your travels…
Well, with motorhome internet such as the Maxview Roam, you book tickets for the event, reserve a spot, and even find the dress theme.
That could have potentially saved you a drive and the disappointment of not acquiring a ticket.
13. Staying connected
Just because you're travelling around Europe (or elsewhere) doesn't mean you can't stay connected with friends, family, and loved ones.
Video calling
With a plethora of video calling tools available, whether Zoom, Whatsapp, or Facebook messenger, it's never been easier to stay connected. As long as you have a stable Wi-Fi connection, you can talk for as long as you'd like. Besides, calling can be expensive, and it's less fun. Video calling is the way forward.
Messages
Check your messages on the go by using your caravan internet. You have the usual options available such as Whatsapp and Facebook messenger. However, you can also use an app known as Signal – a high security messaging app ideal for those travelling for maximum encryption and security.
Business meetings
If your office is on four wheels, then a stable Wi-Fi connection is a must. There's nothing worse than delayed video calls, connection loss when sending emails, and missed meetings as you're walking around a field trying to find a signal.
14. Smart caravan or smart Motorhome
Caravans and motorhomes are becoming smarter. These vehicles now have air conditioning controls and gas level sensors built into them, usually controllable via an app.
Alexa
Control your music, set reminders, and turn your caravan or motorhome into a smart set-up with the popular Amazon's Alexa, paired directly to your caravan internet.
In fact, you can also control your Amazon firestick (if you have one) for ease of use. Talk about a smart setup… you'll never want to go home.
15. Life admin
When you're travelling, admin tasks catch up with you. Now, with Covid passports, tests, and other restrictions, you need to remain on the ball to prevent disappointment.
Checking Covid restrictions by country
You can use the internet to check covid restrictions by country. This ensures you can gain access and do not need to quarantine upon entry.
Booking Covid tests
With restrictions changing all of the time, especially for events, you're going to need to book Covid tests. Find the nearest testing centre near you with the Wi-Fi on your phone, allowing you to de-stress and focus on having a good time.
Passenger locator forms
These forms need to be completed before arriving in the UK (and other countries). Therefore, you'll need quick access.
You'll need an internet connection as these can be found on the Gov UK website.
Finding a local mechanic when things go wrong
Things go wrong from time to time – it's almost inevitable. However, if you're not the handiest, you don't have the parts, or you don't want to get dirty, then you're going to need to find a local mechanic.
A quick Google search will reveal your options, allowing you to seek help in a matter of minutes. If you're lucky, you may even be back on the road within the hour.
Unlocking debit or credit cards when abroad
Trying to use your debit or credit card in another country may result in them becoming blocked.
And guess what? You're going to need to use the app to unblock these with ease. Well, that is unless you want to call up the bank with overseas fees. So, save yourself the trouble, download your banking app, and be ready to unblock them. You'd be surprised at how often we all forget!
Topping up travel cards such as Revolut
There are various travel cards out there, such as Revolut, which allow you to transform GBP into EUR at a great rate.
You can use the Revolut app (or other apps) on your smartphone – all you need is an internet connection.
The bottom line
Strong consistent Motorhome or caravan internet is a must-have on the go. Not only can you watch your favourite Netflix shows in your home away from home, but you have endless entertainment options, can use Google maps for navigation, and can even find things to do and book live events.
A reliable Wi-Fi connection is your best friend when travelling – don't make the mistake of not upgrading.