Product Highlights
Omni-directional
By receiving signals through 360 degrees, the
Gazelle Pro requires no manual directional alignment
for effortless use. Simply re-scan and watch TV.
Sleek Aerodynamic Design
The low profile and streamline design not only
makes the Gazelle look great, but also offers
aerodynamic benefits when travelling.
Compact Roof Mounting
The compact size occupies minimal roof space,
allowing it to be mounted in almost any position.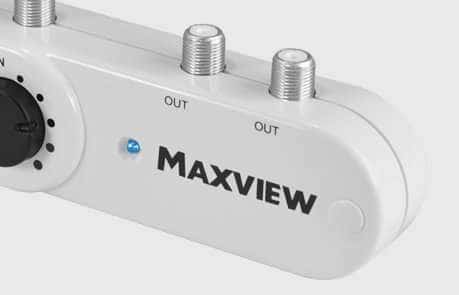 Variable Signal Booster
2 outputs and adjustable gain control from 0-19dB
allows the user to maximise signal in both high
and low signal strength areas.
Telescopic VHF Aerial Option
The telescopic VHF aerial can be attached to provide
FM and DAB radio channels as well as some TV channels
across Europe
Flexible Installation
The unique mounting foot can be fixed using a wet
Silicone seal or the provided EPDM seal. Both methods
require a single hole for the coaxial cable to pass
through.
Easy Aerial Head Unit Installation and Removal – An integrated push fit
connector allows the aerial head unit to be connected and disconnected
quickly and conveniently.
Optional Foot Clamp – Overcomes the need for fixings into the roof when
used with a wet seal and offers a tidy cable entry point inside the vehicle.
Receives all available digital terrestrial TV and radio signals without any alignment
Designed and tested for outdoor use
High quality, durable and robust construction
Blanking Cap available for head unit removal
Designed and manufactured in the UK
2 year guarantee
| | |
| --- | --- |
| Compatibility: | SD, HD, 3D and 4K TV, FM and DAB radio |
| Frequency Range: | Wideband for UHF TV and VHF radio |
| Gain: | Up to 19dB with Variable Signal Booster (included) |
| Power: | 12/24V or 230V to power Variable Signal Booster (subject to variant) |
| Mounting: | Fixed using flexible adhesive sealant or the EPDM seal and screws provided |
| Housing: | White – UV Stable Injection Moulded ABS plastic |
| Aerial Height: | 14cm |
| Foot dimensions: | 8.2cm x 18cm |
| Aerial Weight: | 0.9kg |
Aerial Head Unit
Mounting Foot with Integrated 5 Metre Coaxial Cable
Clamping Tool
Telescopic VHF Aerial
1m F to Coaxial Flylead
Variable Signal Booster and Fused Power Lead
230V Transformer (B2345 Variant Only)
EPDM Water Ingress Seals
Roof Mounting Kit and Fixings
F Connector
Instructions