Product Highlights
The Router
Our powerful router receives 3G/4G and turns these
into a secure Wi-Fi hotspot. As a secondary source,
the router can also be set up to receive Wi-Fi. This
means 3G/4G data is only used when necessary.
Powerful Antenna
Our powerful 3G/4G Antenna has been designed
specifically for vehicles and optimised to work in
rural and remote locations. Our Antenna is
now compatible with all 5G frequency bands
as standard. See 5G Ready Tab below for details.
Omni-directional
By receiving signals throughout 360 degrees, the
Roam requires no manual directional adjustment;
simply fit and forget.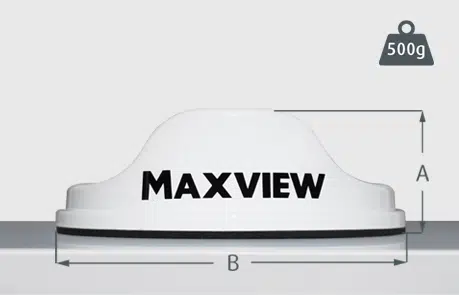 Sleek Antenna Design
Low profile and streamline design for roof
mounting; occupies minimal roof space, for a discreet
installation. It can be mounted in almost any
position with mounting options available. Dimensions
A: 65mm x B: 196mm ø.
Plug and Play Router
Specifically designed for your vehicle, it
features a durable Aluminium housing
with unique anti vibration mounting bracket.
Its compact size and cupboard mounting bracket
ensures a neat installation.
See below for sizes displayed.
Suitable for European Travel
The Roam has been optimised to work across the UK
and Europe, for internet connectivity wherever your
adventure takes you.
Static and Mobile Connectivity – Providing connectivity when stationary and whilst on the move.
With free App control! – Provides simplified use of key features. Available on iOS or Android.
Factory Unlocked for any SIM – The router is designed to work with any data service provider, alongside your choice of Data SIM, so you can use whatever network works best for you.
Suitable for Elevated Roof Installations – Independent performance testing confirms the antenna works effectively on elevated roofs. Although horizontal installations provide maximum performance.
Secure Internet Browsing – Uses advanced password encryption methods to ensure your internet connection remains secure.
Family Friendly Browsing – Bespoke website blacklist filters can be set up to block unwanted websites.
Powered by Teltonika – We are proud to have formed a partnership with Teltonika to bring you the powerful Roam router.
Simple Installation – Self-adhesive pad and clamp provides quick and easy permanent through the roof installation. Once installed simply plug and play.
Devices – Connect up to 100 devices at any one time, including Smart TV's, Smart Phones, Tablets and Laptops
Power Options – Includes 12V automotive cigarette power supply or can be powered using 230V mains power supply (sold separately)
Connectivity – Can be wired using the 1.5m Ethernet cable providing a permanent connection directly to a device. Ideal for Smart TV's
Reliable Data Transfer – 0.8metre Cable with twist on (SMA) connectors as standard
Remote diagnostics and troubleshooting support
Very easy set up
1 year guarantee
The Roam is designed to work with any data service provider so you are free to use whatever network works best for you! You can use your provider if you already have one in place alternatively if you are choosing a network provider for your Roam it's worth considering coverage for intended travel alongside the best deals and usage.

If you travel to Scotland, EE's coverage is regarded superior, whilst Vodafone proves popular for those travelling into Europe. The Three network is generally considered to offer competitive deals. Please check limitations of your network provider and Data SIM, especially when travelling abroad, the number of days abroad, usage and restrictions and roaming charges. It is always a good idea, when travelling abroad to carry a spare SIM which doesn't have a shelf life or expire if not used.

For further details on the SIM Data Package we can provide please click here
| | |
| --- | --- |
| Type: | Omnidirectional MIMO (multiple in multiple out) |
| Frequency/Gain: | 698-6000 MHz/5.9dBi -8.8dBi Includes all 3G, 4G and 5G frequencies |
| Connector: | Type: SMA |
| Impedance: | 50 Ohm |
| Power: | Passive |
| Cable Lengths: | 0.8 metres (cables extensions available separately) |
| Housing: Aluminium Base: | UV Stable ASA Cover |
| Dimensions: | 196mm (diameter), 65mm (height) |
| Weight: | 500g |
| Mounting Accessories: | Yes |
| | |
| --- | --- |
| Type: | 3G/4G and Wi-Fi |
| 3G/4G Antenna Connector: | 2 x SMA |
| Ethernet Ports: | 4 x RJ45 (WAN and LAN) |
| Connection Devices: | Up to 100 |
| Antennas: | 1 x 3G/4G (for external roof mount antenna) 2 x Wi-Fi (for internal whip antenna) |
| Power: | 9-50 VDC (Reverse Polarity Protection) 12V Automotive Power Supply Included, 1.5m Lead Length 2 Amp Fused Input |
| Power Consumption: | 0.4A |
| Family Browsing: | Yes, blacklists and whitelists |
| Remote Diagnostics: | Yes |
| SIM: | 2 x Unlocked |
| Housing: | Aluminium |
| Dimensions: | A: H270mm x B: W115mm x C: D45mm |
| Weight: | 550g |
Omnidirectional Roof Mount Antenna and Fixings
0.8 metre Cable with SMA connectors
3G/4G/WiFi Router
12V Cigarette Power Supply
Router Mounting Bracket and Fixing Kit
1.5m Ethernet Cable
2 x Internal Wi-Fi Antennas
Instructions