Product Highlights
12/24V Power
Powered by a 12/24V supply using the fused power
cable provided, ideal for mobile vehicles.
Variable Gain Control
Adjustable gain from 0-19dB allows the user to adjust
gain for high and low signal areas.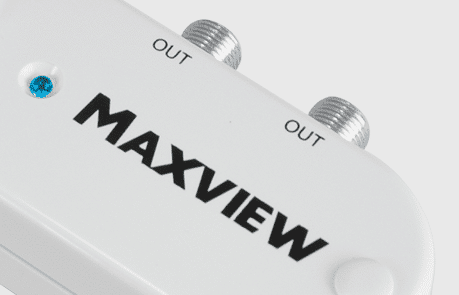 Twin Output
Allows the boosted signal to be supplied to two
locations without compromising signal quality.
LTE/4G Compatible – Designed to filter out LTE band to ensure maximum DTT reception in 4G signal areas
Surface Mounting – Features fixing slots for flat surface mounting
Boosts and distributes the signal strength of all incoming UHF/VHF signals to enhance picture and sound quality
LED Power Indicator
Ideal for weaker signal areas
High quality, durable and robust construction
Designed in the UK
1 year guarantee
Application:

Any mobile vehicle including motorhomes, caravans, RV's, HGV's and marine

Compatibility:

Digital TV and FM/DAB radio

Frequency Range:

Wideband for UHF TV and VHF radio (40 –790 MHz)

Power Supply:

12/24 DC (Included)

Power Consumption:

Low (50mA)

Inputs:

1

Outputs:

2

Variable Gain:

0 -19dB

Noise:

4dB

Colour:

White

Product Dimensions:

H:55mm x W:140mm x D:30mm

Note: The Variable Signal Booster unit is not weatherproof or for permanent outdoor use.
Variable Signal Booster
12/24V Fused Power Cable (2A)
1m F to Coaxial Flylead
Mounting Screws
2 x F Connectors
Instructions