Introduction
From time to time, new firmware will be available to download onto the Router. It is not essential that the latest firmware is on the router, however we recommend keeping firmware up to date to ensure you have access to new feature releases and the latest security updates.
A list of the latest firmware changes and the associated features can be found at https://wiki.teltonika.lt/view/RUT2xx_Firmware. As long as the router has a reliable internet connection, the firmware update can be done from the Teltonika Web User Interface*(see bottom of page). The time it takes will depend on your connection speed, so we recommend using a fast connection to minimise the time required.
1. If a firmware update is available, you will see the words 'FW update available' in the top right hand corner of the dashboard.
2. Select the 'FW update available' text to proceed to the Firmware page.
3. Select 'upgrade' to begin the update procedure. It is not necessary to change any of the other settings here. Ensure 'keep all settings' box is ticked so router configuration and creditenials do not change.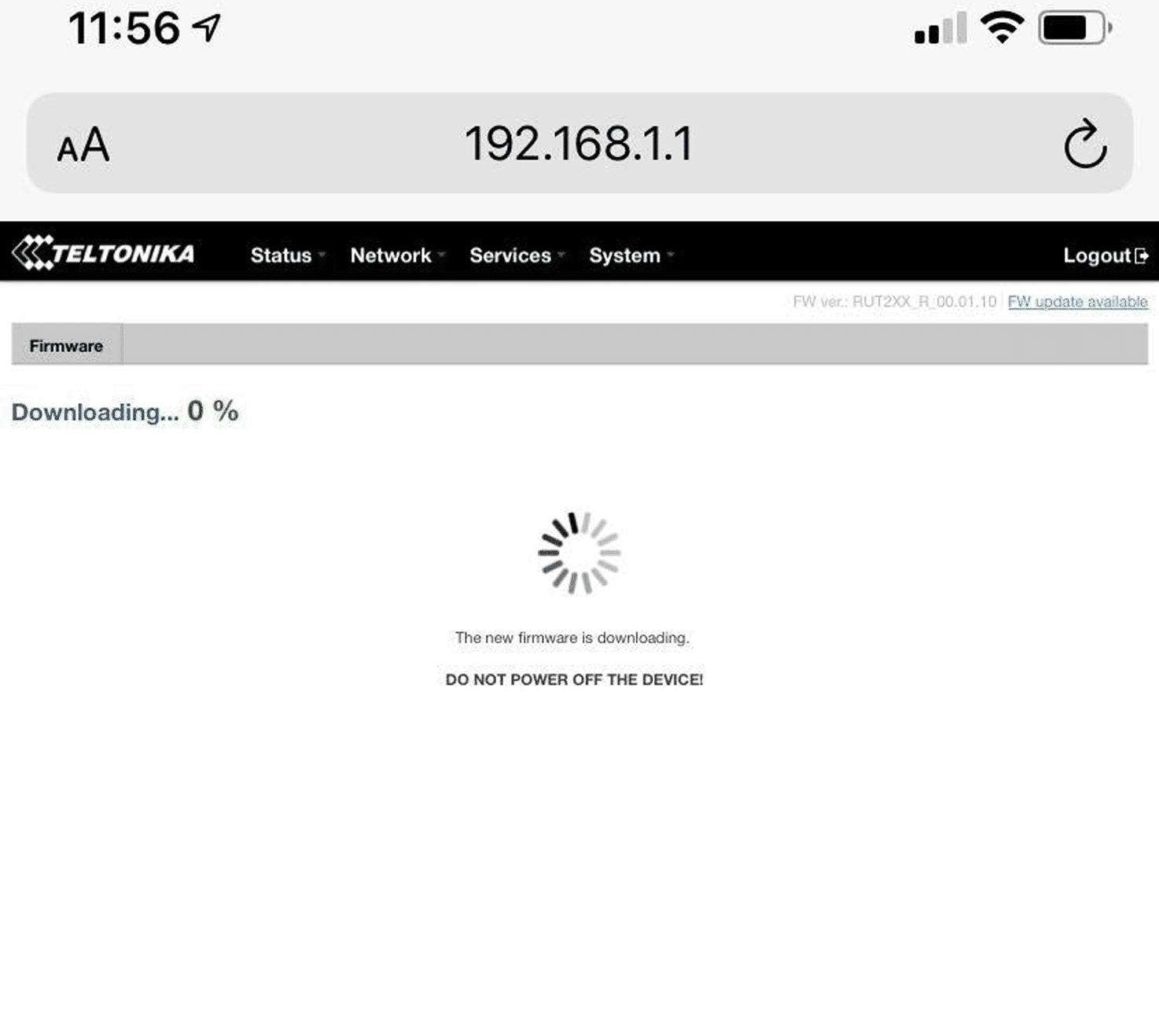 4. The firmware will now begin to download. Remain on this page until the download is completed.
5. Once completed, the page will change to show that the download and verification and been successful.
6. Select 'Upgrade' to begin the transfer of the new firmware onto the router.
7. Once completed, your browser should refresh and you will be logged out of the router. If the page does not refresh automatically, you may need to refresh the browser.
8. The upgrade is now complete. Log back in to the Web User Interface to check the firmware upgrade has been successful. Note, as long as the 'keep all settings box' was ticked at step 3 the firmware update will not override the existing credentials.
*IMPORTANT INFORMATION
Some Roam routers will be using firmware version RUT2XX_R_15.01.11.63 as standard. If this particular firmware version is installed on your router, the WebUI will not inform you that newer firmware is available and you will be unsuccessful in searching for firmware updates using the server upload option. Instead, you will need to download the latest firmware from https://wiki.teltonika-networks.com/view/RUT2xx_Firmware ​and install using the 'upload from file' option.
During this process, the WebUI may warn you that you are installing an older version of the firmware, however rest assured this is not the case and it is ok to continue with the update. More information on the 'upload from file' firmware update can be found here: https://wiki.teltonika-networks.com/view/RUT240_Firmware. All other firmware versions can use the server upload option as outlined above.