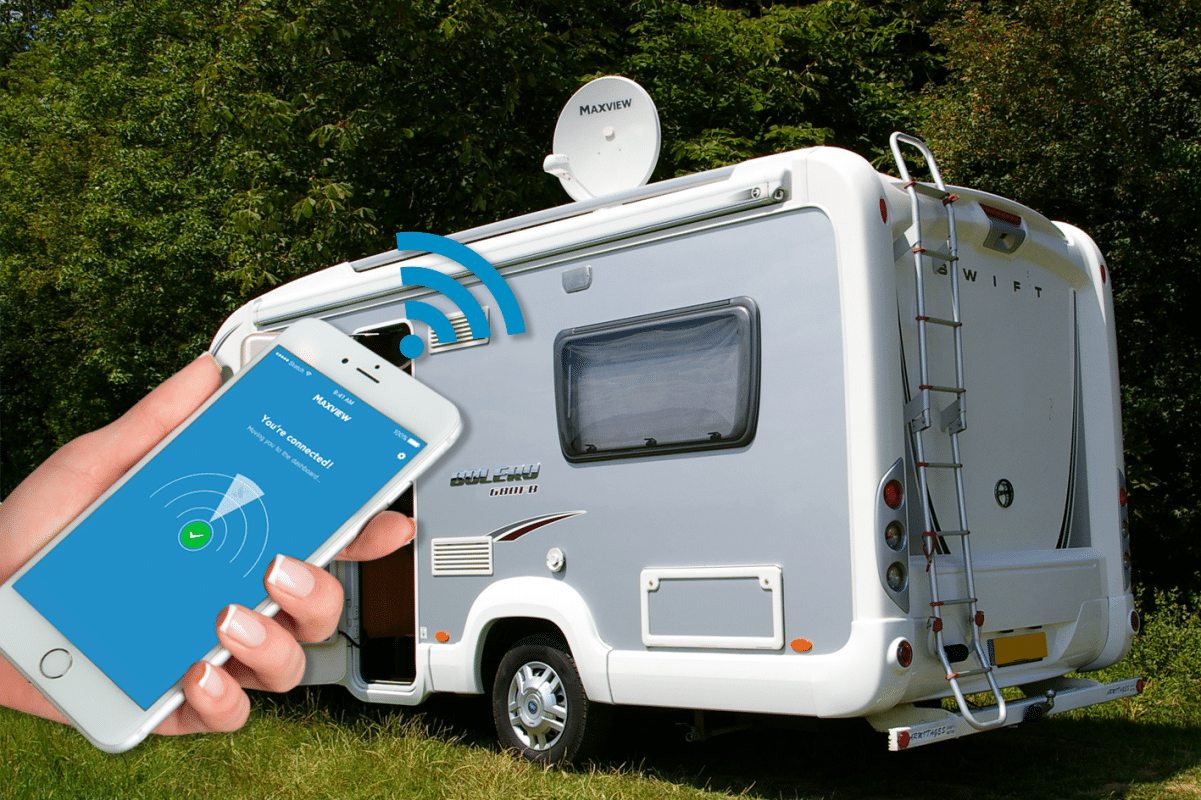 Smart Motorhomes and Smart Caravans
Over the last decade, our homes have become increasingly connected to the internet. TVs, thermostats, lights, security cameras, sensors, refrigerators, and even ovens utilise the internet to offer a more convenient and intuitive experience. As IoT (Internet of Things) devices gain popularity and become more affordable in the home, smart motorhomes and smart caravans inevitably will follow.
Incorporating devices connected to the internet and accessible from smartphones allows motorhome and caravan owners to utilise incredibly advanced technology; however, the devices are useless without a reliable WiFi or 4G connection.
The Rise in Personal IoT Devices in Homes
Our homes have become increasingly "smart" thanks to accessible IoT devices, smartphones, and broadband. In recent years, technology companies like Google and Amazon have made setting up a smart home much more accessible by rolling out voice-activated central units. Purchasing a smart hub allows home or motorhome owners to build off the centralised device and offers hands-free control.
Companies that make other IoT devices like lights, appliances, and home security integrate their products with the unfinished sentence
The History of Smart Home Technology
Smart home technology has taken off in the past decade, but surprisingly home automation systems have been around since the 1970s. As the internet merged into every aspect of our lives through smartphone adoption, the opportunity to create products has become easier.
X10
The first home automation system was released all the way back in 1975 from X10. Early smart home adopters could control lights, appliances, and other electronics. The system was operated through a command console that would send signals through radio frequency bursts into the electrical wiring.
While the X10 still exists today, it isn't a reasonable option for the base of a smart motorhome or smart caravan. Users who still have these systems likely bought a home with the X10 already installed or used it for decades and don't want to switch to IoT-powered devices.
Nest Thermostat
In 2010, the Nest Learning Thermostat introduced a new way to add technology to the home. By using the internet and Bluetooth devices, users could control devices remotely and collect behavioral data.
Safety
Once smart home devices became accessible, and demand increased, more products and use cases were released. Today, adding smoke, CO2, or motion detector just takes a few minutes if you have a smart home hub like Alexa, Google Home, or Facebook Portal.
DIY Security
Traditional home security companies are scrambling to keep up with new DIY options such as Ring. These devices offer home protection monitored through a provider or smartphone notifications.
DIY systems are extremely easy to install and can efficiently serve as the base for a smart motorhome or smart caravan. In addition, the security cameras, sensors, locks, and safety devices integrate with smart hubs from Google, Amazon, and Facebook.
Advanced Appliances
Adding a smart refrigerator or air fryer to a home's arsenal of IoT devices is a relatively new concept but will likely become commonplace in the near future. Including a smart appliance in a motorhome or caravan could be challenging due to space restrictions, but we aren't far off from seeing more compact devices being released.
How to Utilise Smart Home Devices on the Go
Smart motorhomes and smart caravans are among the next evolution of consumer IoT devices. Because these devices have become so accessible, adding them to a mobile home is easy. Adding an X10 system is possible but would be a nightmare compared to hooking up an Alexa or home security system to your motorhome's WIFI and mobile devices.
Cameras can be used for security purposes or to keep an eye on you vehicle when you are away.

Smart thermostats can autonomously warm up your motorhome in the morning or remotely turned on.

Users can control lights from their phones.

Outdoor cameras fitted with a motion light can warn you even if you aren't carrying your phone.

Speakers connected to WIFI or Bluetooth provide entertainment at your campsite. Retailers are offering weather-resistant and voice-activated speakers to accommodate life on the road.
Adding smart devices offer numerous advantages in a unfinished sentence
There are some challenges with incorporating smart home devices in a motorhome or caravan. First, stabilising cameras, mounting sensors, and finding devices that fit the vehicles can be difficult. Because larger devices like smart TVs and appliances are designed for home living spaces and kitchens space can be an issue. However, devices are becoming smaller and more DIY friendly every year.
The next challenge is connectivity. The smart home devices that can be efficiently utilised in a motorhome or caravan are entirely dependent on WIFI to operate.
The Importance of a Reliable Motorhome or Caravan WIFI Connection
A strong internet connection is crucial in building a smart motorhome or smart caravan. Using a WIFI router with an antenna ensures you get the maximum level of coverage in areas with a weak signal. Our Roam Kit features a 4G router and external antenna that integrates with your smartphone through an app. The kit is an affordable option that provides the maximum coverage range in areas frequented by motorhome and caravan enthusiasts.
The Future of Smart Motorhome and Smart Caravan Devices
We see devices such as security systems and smart speakers specifically designed for motorhomes and caravans; however, the best way to utilise the most advanced tech is with DIY smart home components. As connectivity becomes more accessible and more people get comfortable with smart home devices, you can expect to see more options designed to outfit smart motorhomes and smart caravans.
We expect seamless connectivity between our homes, vehicles, and phones in the future. New EVs with advanced software can easily connect to other devices, collect data, and make the driving experience safer and more enjoyable. We will see future motorhomes and caravans fully connected to our devices without adding smart home components.
For now, the best move forward is choosing a smart home security system or smart home hub and adding devices that can be easily mounted and fit into your motorhome. Of course, the foundation is a reliable WIFI connection powered by an exterior antenna to maximize your coverage.